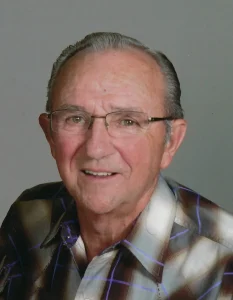 Place of Residence
Boyd, Wisconsin, United States
Robert "Bob" W. Sime, 81, of Boyd, Wisconsin passed away peacefully in his sleep Saturday, August 6th, 2022. Bob was born on September 6th, 1940 in the Town of Colburn, Wisconsin. After graduating from Cornell High School, he proudly served in the Army National Guard during the 60s. He later moved to Minnesota and with a passion for mechanics, he worked his way up at the Standard Oil station on West 7th Street in St. Paul and eventually became its owner. This was his pride and joy for almost 40 years.
Bob made friends of everyone that came into his station and garnered a reputation as a friend that would do anything for them. When he wasn't at the station, Bob raised his kids, Jim and Nikki, he hunted and fished with his family and friends, traveled the world, escaped to his cabin, owned a race horse, won awards for his restored 1940 Chevy pick-up, sponsored, played and coached his team to win USSSA and ASA softball Championships. After retiring, he moved back home to Boyd, WI, where he reconnected and married his high school sweetheart, Margaret; they enjoyed fishing, gardening, walking and playing cards with family and friends for the rest of his days.
Bob is survived by his wife Margaret Sime, his daughter Cheri (Jack) Rivers, son James (Iva) Sime and daughter Nicole (Morley) Nelson; grandchildren Jessica, Joshua, Jacquelynne, Amanda and Robert Rivers, Natalie and Nicholas Sime, Jack and Brooke Nelson, Margaret's children, Ginny (Rob) Hathaway, Lisa (Kevin) Revolinski, Dawn (Troy) Nicols; grandchildren; Lauren and Connor Hathaway, Rachel (Adam) Amaro, Olivia (Stephen) Eibes and Ryan Revolinski, Amanda Nicols; great grandchildren; Paisley Amaro and Joseph Eibes, brothers Larry (Helen), Russell (Nan), Mike (Alyce), and Pat (Ann) Sime, sisters Karen (Richard) Kimball, Kathie (Dennis) Gingras, and Debra Sime; sisters-in-law Ally Sime and Ann Sime, brothers-in-law Larry, Donald (Wanda), Edward, Joseph (Mieka) Derks and; God knows how many nieces and nephews. He was preceded in death by his parents George and Arla (Moore) Sime, sister and brother-in-law Dottie and Bill Stees, brothers Butch, Ronnie, and Charlie Sime.
A Mass of Christian Burial will be held at 11AM Thursday, August 11th, 2022 for Bob at St. Joseph's Catholic Church in Boyd, WI with Father William Felix officiating. Bob will be laid to rest at St. Joseph's Catholic Cemetery following the service with Military Rites and with fellowship back at the Church after internment. There will be a visitation on Wednesday, August 10th, 2022, at Plombon's Funeral Home, 502 N Broadway St, Stanley, WI, from 4:00 pm – 7:00 pm, with a vigil and eulogy at 6:30 pm and again visitation one hour before the Mass on Thurs. In Bob's final days, he suffered from Alzheimer's, a horrific disease that steals the person you know and love: please, in lieu of flowers, help find a cure and support families by donating to the Alzheimer's Association.
Our sincere thanks to the wonderful staff for their care and love at Our House Memory Care Facility.
With love, Bob's family