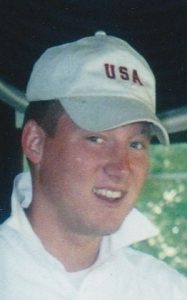 Place of Residence
Altoona, Wisconsin, United States
Christopher Borton 37, of Altoona and Cornell, died at his residence in Altoona. He was born the son of Bob and Mary Kay ( Walker) Borton On Dec. 10th 1976 in Eau Claire. He moved with his family to Cornell when he was three years old. He attended school and graduated from Cornell High School. He attended the University of Wisconsin in Madison. While in College he interned at Lloyds of London in England. He traveled to Australia where he worked for farmers in the Outback. He returned to Wisconsin and joined the Marine Corp. He was Stationed in Washington D.C. After his discharge he traveled to Africa and then came home, where he helped with the family business.
He is survived by his parents, his Grandmother Bernice Borton of Chippewa Falls, his Sister Stacy(Brian) Simmons of Bloomer, brother Joseph( Mary Joy) of Altoona, nieces and nephews, Madison, Jackson, Ysabella and Caleb. Aunts and Uncles-Ann and Steve Robertson, Randi and Peter Scobie and Bob Hagen and several Cousins. He was Preceded in death by one Aunt Margaret Hagen, maternal grandparents Milford and Martha Walker and paternal grandfather Irvin Borton.
Funeral services will be held at 11:00 AM on Saturday, September 20th, 2014 at Our Savior's Lutheran church in Cornell, WI with Rev. Andy Schottelkorb officiating. Interment will be in the Cornell Cemetery Cornell, WI. with Military Honors conducted by the Cornell American Legion and VFW. Visitation will be from 4-7 PM on Friday, September 19th, 2014 at the Borton-Leiser Funeral Home in Cornell, WI and also one hour before services Saturday morning at the Church.
IN LIEU OF FLOWERS- Memorials may be directed to "Save the Children" 501 Kings Highway East, Fairfield, CT 06825, which was an organization that Christopher supported for a number of years. Express online condolences at www.bortonleiserfuneralhome.com
http://www.leiserfuneralhome.tributecenteronline.com/obituaries/Christopher-R-Borton?obId=815635
EULOGY
Hi. For those that don't know me my name is Kevin Walters. Christopher and I grew up together, were roommates in college, and remained very close all through the years. He was my best friend. I am struggling to come to grips with this turn of events as I am sure all of you are. I take solace in the fact that he is finally at peace. He has struggled with his illness for many years. Sometimes he would talk about it, usually he wouldn't. He always said that it would take too long to explain. For me to try and explain Christopher as the great son, brother, uncle, and friend would also take too long. He was a complex person who brought a smile to everyone he came across. For this reason I would just like to share some of his lighter moments so we can remember all of the brightness he brought to each and every one of us.
Anyone that knew Christopher knew that he was always the life of the party with an infectious smile and a sense of humor that has me convinced he could have pursued a career in comedy. From his antics to his writings he was just plain funny. Part of this was having a mouth that usually couldn't keep quiet. I'll never forget his junior year in track (I was a senior) and we were warming up before a meet or practice I forget. Christopher just couldn't keep his mouth shut. He was succeeding at making everyone else laugh and Coach Eino Martino had enough. He finally said to Christopher, "Borton shut up. If you could run with your mouth you would be a gosh darn All-American." No truer words were spoken and to this day that is one of my all-time favorite quotes. I think Eino actually rendered him speechless which wasn't easy to do.
Christopher always seemed to live in his own world. He moved at his own pace and did his own things. He was always at home on the road. Whether it be driving to nowhere in his car, traveling to locales such as Africa and Australia with hardly a dime to his name, or going against the status quo. He was the truest sense of an individual. For those that knew him well he loved to drive. I don't think he was that good at it but he would beg to differ. He used to always say that he could race NASCAR and was convinced that he could beat Dale Earnhardt. I really think he believed that. There are a few funny road stories that are worth sharing. The first was when he was driving back from Noah's Ark in Wisconsin Dells where he spent a summer as a life guard. Oh not just a life guard he would remind you. A Deep Guard. For those that know the route to Cornell from Wisconsin Dells you pretty much stay on I-94 until you choose to jump off in either Osseo or Eau Claire. Christopher always had a way of spacing out when driving. On this particular occasion he didn't pay attention where the I-90 and I-94 split was and must have stayed in the left lane. An hour later he sees a sign welcoming him to Minnesota and gets confused. After getting his bearings he realized that he had unknowingly taken I-90 instead of I-94 and was now in La Crosse. Never one to have much shame he had no problems sharing that story when any of the rest of us would have erased that from the memory banks.
Another funny driving story was when he had his blue Chevy Lumina. At one point he had a University of Wisconsin Medical School sticker in the back window because he said girls looked at him different when they drove past to and from his trips to Madison. I think he was seeing looks of confusion since they couldn't reconcile the car with the Med School sticker with the large Bud Lite magnets he had on his doors. As I mentioned earlier he liked to pretend he could race that car and as a result it was beat up and abused pretty bad. One year in college on a whim five of us decided at the last minute to take a Spring Break trip to South Padre Island in Texas. We all hopped in the Lumina for a 1600 mile trip with hardly a plan in place. He actually wanted to go with no plans and make it all up on the fly. That is far from my style but another sign of his adventurous style. Fortunately for my sake cooler heads prevailed and he agreed to at least go with hotel reservations. Interesting enough all of his trips and adventures worked out so I guess I should admit that he was on to something. Anyways we take off in the Lumina for this 1600 mile trip and wouldn't you know it we get a whole 15 miles out of Madison and the car dies in Verona at a stop light. I am ready to throw in the towel because there is no way that car is going to make it to South Padre. Well here is Bort the adventurer and optimist convincing us all that it happens all the time and I'll be darned if he didn't convince us to continue forward. We did, the car never hiccupped again, and we had a week of fun for the record books. Some of our craziest, most fun college stories happened on that trip but that is for another time and place.
Christopher had a lot of respect for law enforcement. I know that to be true but that doesn't mean that he didn't have his moments with them. One of my favorite pictures from our college days is with Christopher in the back seat of a police car looking through the window with the rest of us laid out posing in front of it. Now for the story behind it. By the way he wasn't arrested. We lived across from a park and a bunch of people decided they wanted to try and dive through a large bush to see if they could make it through. Christopher was one of those crazy enough to do it and as hard as they tried they couldn't dive through the bush since it was so dense. After several tries someone alerted the Madison Police Department and wouldn't you know it Christopher was the one caught in the act. Toby you got lucky. After putting him in the back of the police car, we took the picture, they wrote him a ticket for Destruction of Public Property and released him. Now this is where it gets interesting. Most people would tuck their tail and pay the ticket and be done with it but not Christopher. He was adamant that he wasn't going to pay the fine and instead he wanted to serve jail time. He actually went before the judge and asked to be put in jail in lieu of paying the fine. The judge laughed at him and told him his only option was to pay the fine which he reluctantly did.
Christopher also had the pleasure of being on the receiving end of a Taser not once but twice. He was over visiting me in Wyoming, MN where I live, got a little carried away, and wandered off. When he didn't return we all got concerned. Come to find out he ended up attracting the attention of the Wyoming Police Department. What the Police told me is that he was trying to make them all laugh and when he started approaching them and not heeding their calls to stop they had no choice but to Tase him. As he was being Tased he actually said to them in hard charging Marine fashion "Is that all you got?" So they hit him with it again. Not a wise decision and I know he regretted that one forever but in keeping with his lifelong theme he was funny even in the worst of times.
Oh and how can I forget the entire winter he went without a coat? I'm sure it got at least 20 below that winter. No kidding he didn't wear a coat the entire winter. I've asked myself, who in the world would go a whole winter in Wisconsin without wearing a coat? Christopher Borton is who. He wanted to do it just to prove he could. Whenever he set his mind to something he was going to see it through.
As I have struggled with my range of emotions this week I have tried to come up with some words that could explain this complex individual. Something to capture his individuality, his sense of spirit and adventure and his devotion. From his various trips to joining the Marine Corp to having a strong sense of family and being one with Christ. He could never sit still for very long and whenever he would come to visit for a weekend would inevitably leave after one night. The best I have come up with is that he was:
"Always in a hurry to go anywhere but where he already was"
I don't know exactly what he was searching for but I don't think he ever found it.
Bob, Kay, Stacy, & Joe. You guys have been like a second family to me. I can't fathom the pain that you are feeling. I have been struggling myself to come to terms with this. You raised a very special person who had a positive impact on everyone he ever met. Look around at all the people that came to pay their respects. He was the best friend a person could ask for. Always there for whatever anyone needed. The only solace I find in this is that he was finally able to silence the demons that have been plaguing him for years. He found his peace. In parting I would like to share the title of one of his favorite songs. It was a Van Halen song that I would like to think I had some influence over him on as Van Halen was my favorite band in Elementary School and Jr. High. "Dance the Night Away" Christopher. You will be missed more than you will ever know.