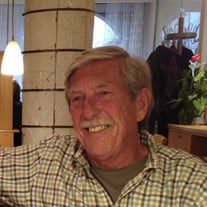 Place of Residence
Victoria, Minnesota, United States
Add website links (to articles, videos, etc)
Steven Allan Hoyt, aged 75, born on February 24th, 1948, and passed away on September 21st, 2023. He is survived by his devoted wife of 43 years, Julie, and his beloved sons, Danny and Luke, brothers Dick and Tedd. Sisters-in law Chris Reisdorf (Sheila Collins) and Mary Reisdorf, Brother-in-law Richard Reisdorf. Steve was preceded in death by his parents, June and Allan Hoyt.
Steve was a true adventurer who embraced life with an unwavering spirit. He was a military veteran who proudly served his country in the United States Army, 82nd Airborne Division. His zest for life was evident in his many interests and passions.
From a young age, Steve was a collector, always in pursuit of hidden treasures from memorabilia and antiques to Redwing Stoneware. Steve had a passion for the open road, covering hundreds of thousands of miles crisscrossing the country to visit his boys. He was an avid car enthusiast, an active participant in Porsche gatherings both near and far.
Steve was a natural salesman and possessed a knack for connecting with people due to his charisma and gift for conversation. He had a large network of friends through his ability to make meaningful connections wherever he ventured.
Animals held a special place in Steve's heart, he shared his life with four Dobermans and three Dachshunds. His compassion extended beyond his pets; he was known to stop traffic to assist ducks crossing the road, carry a turtle to safety, or rescue a stranded snake.
Steve leaves behind a legacy of enduring friendships, some built over decades and others more recent but no less meaningful. He made a point never to let a day pass without reaching out to a friend through a phone call or a personal visit.
He will be remembered as a loving husband and father, a friend, and his never-ending love for the open road.
Private Internment. Celebration of life Friday November 3rd at 12 Noon with visitation 1 hour prior to service at:
Washburn-McReavy.com
Edina Chapel 952-920-3996
5000 W 50th & HWY 100
Steven Allan Hoyt Obituary – Visitation & Funeral Information (washburn-mcreavy.com)